Weltman is pleased to announce four of the firm's attorneys have been named to the
2020 Ohio Super Lawyers
list, with an additional two attorneys named to the 2020 Ohio Rising Stars list.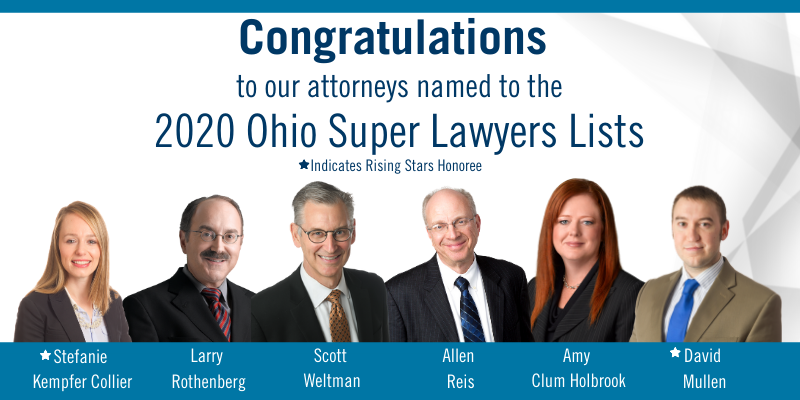 Amy Clum Holbrook
, shareholder, is a top-rated attorney practicing in the Cleveland, Ohio area. Providing legal representation for consumer collections, Amy was selected to the Rising Stars list in 2010, as well as selected to the Super Lawyers lists from 2017 to present.
Larry Rothenberg
, shareholder, has over 40 years of legal experience covering real estate default and credit debtor rights near Cleveland, Ohio. Larry has been selected to the Super Lawyer lists in 2004 and 2005, as well as 2008-2020.
Scott Weltman
, managing partner, works primarily in commercial and consumer collections, operating out of Weltman's Cleveland office. Scott was selected to the 2005 Rising Stars list, then selected to Super Lawyers in 2007 and 2010 - present.
Allen Reis
, shareholder, is a top-rated credit debtor rights attorney near Columbus, Ohio. This year's selection to the 2020 Ohio Super Lawyers list marks his tenth year of recognition for his outstanding legal achievements.
David Mullen
, attorney, was selected to the Rising Stars list in 2019, and again in 2020. David works in consumer collections, specifically subrogation and education loan recovery and litigation.
Stefanie Kempfer Collier
, attorney, primarily focuses on repossession and collateral recovery, compliance analysis and review, and commercial and residential evictions. Stefanie was selected to Rising Stars in both 2019 and 2020.
Additionally, congratulations to attorney
Charles (Drew) Walgreen
on being selected to the Illinois list.
Click here to learn more about his selection.
Super Lawyers, part of
Thomson Reuters
, is a research-driven, peer-influenced rating service of outstanding lawyers who have attained a high degree of peer recognition and professional achievement. Attorneys are selected from more than 70 practice areas and all firm sizes, assuring a credible and relevant annual list. The annual selections are made using a
patented multiphase process
that includes peer nominations, independent research by Super Lawyers, and evaluations from a highly credentialed panel of attorneys.
Attorneys selected to the list of Super Lawyers represent no more than 5% of lawyers in the state. The list of Rising Stars is comprised of attorneys 40 years old or younger, who have been in practice for 10 years or fewer, representing no more than 2.5% of lawyers in the state.