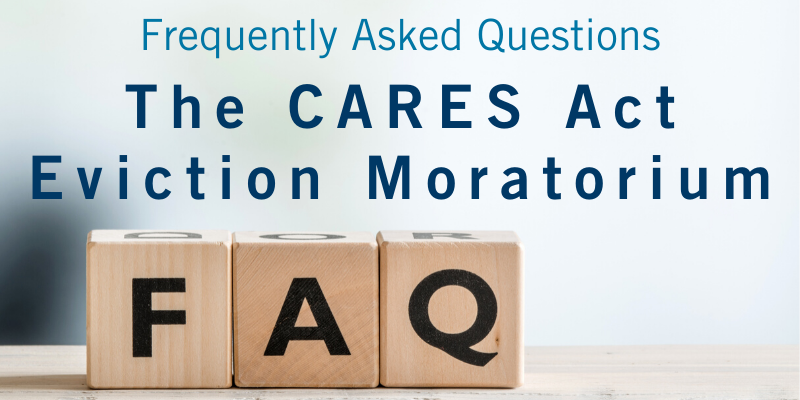 What does the CARES Act stand for?

Coronavirus Aid, Relief, and Economic Security Act

What does the Act provide and what time frame does it cover?

The Act provides a wide range of aid, relief, and stimulus provisions, but also institutes a temporary moratorium on certain evictions for the non-payment of rent from a covered dwelling for a period of 120 days, commencing March 27, 2020.

What does this moratorium actually mean for lessors/landlords?

During this 120-day period, a lessor/landlord of a "covered dwelling unit," which is occupied by a residential tenant either with or without a lease and is on a covered property, is prohibited from making, or causing to be made, any filing with the court to initiate a legal action to recover possession of the covered dwelling from the tenant for non-payment of rent or other fees and charges.
A lessor/landlord is prohibited from charging fees, penalties, or other charges related to the non-payment.
A lessor/landlord may not require the tenant to vacate the covered dwelling unit before the date that is 30 days after the date on which the lessor provides the tenant with notice to vacate; and
A lessor/landlord may not issue a notice to vacate until after the expiration of the moratorium period.

What happens when the 120-day period ends?

Once this period expires, notice to vacate must provide at least 30 days for the tenant to vacate.

What is a "covered dwelling?"

A covered dwelling is a dwelling occupied by a tenant:

pursuant to a residential lease; or
without a lease or with a lease terminable under State law and which is on or in a "covered property."

What is a "covered property?"

A covered property is one that:

Participates in a "covered housing program" as defined by the Violence Against Women Act (as amended through its 2013 reauthorization); or
Participates in the "rural housing voucher program under section 542 of Housing Act of 1949;" or
Has a federally backed mortgage loan; or
Has a federally backed multifamily mortgage loan.

Which federally assisted housing programs are covered under the moratorium?

By including the Violence Against Women Act, the moratorium covers most federally assisted rental housing programs, including those under the Department of Housing and Urban Development, Department of Agriculture, and Department of Treasury. See 34 U.S.C. 12491(a)(3).
Specifically, this includes:

Public housing (42 U.S.C. § 1437d);
Section 8 Housing Choice Voucher program (42 U.S.C. § 1437f);
Section 8 project-based housing (42 U.S.C. § 1437f);
Section 202 Supportive Housing for the Elderly program (12 U.S.C. § 1701q);
Section 811 Supportive Housing for Persons with Disabilities program (42 U.S.C. § 8013);
Section 236 multifamily rental housing (12 U.S.C. § 1715z-1);
Section 221(d)(3) Below Market Interest Rate housing (12 U.S.C. § 1715l(d));
HOME (42 U.S.C. § 12741, et seq.);
Housing Opportunities for Persons with AIDS (42 U.S.C. § 12901, et seq.);
Section 515 Rural Rental Housing program (42 U.S.C. § 1485);
Sections 514 and 516 Farm Labor Housing program (42 U.S.C. §§ 1484, 1486);
Section 533 Housing Preservation Grants (42 U.S.C. § 1490m);
Section 538 multifamily rental housing (42 U.S.C. § 1490p-2); and
Low-Income Housing Tax Credit (26 U.S.C. § 42).

What about the CARES Act eviction moratorium and federally backed mortgage loans?

For purposes of the eviction moratorium, a "federally backed mortgage loan" is defined to include loans secured by any lien on residential properties that have 1-4 units and are "made in whole or in part, or insured, guaranteed, or supplemented, or assisted in any way, by an officer or agency of the Federal Government or in connection with a housing or urban development program administered by HUD or a housing related program administered by any such officer or agency, or is purchased or securitized by the Federal Home Loan Mortgage Corporation or the Federal National Mortgage Association."

The definition of a federally backed mortgage loan is much broader than the one used in Section 4022(a)(2) of the Act, instituting a moratorium on foreclosures. That section limits the definition to a short list of federal agencies and programs, but please see Section 4022 (a)(2) for more information.
This means that the eviction moratorium may apply in cases where the foreclosure moratorium would not.

A "federally backed multifamily mortgage loan" has the same definition, but is secured by property with five or more dwelling units.

Which eviction actions do NOT fall under the moratorium?

The moratorium does not apply to:

Cases filed prior to March 27, 2020;
Those involving non-covered tenancies; or
Evictions based upon reasons outside of non-payment of rent, fees, or charges.

Before taking any action, all lessors/landlords should check their specific jurisdictional orders – as many courts have additionally suspended eviction actions and writs during this time.

How will lessors/landlords know if the moratorium applies to their properties or current situations?

Lessors/landlords can review relevant documentation in regard to their rental properties and tenancies.
Consider contacting Weltman for any assistance.

What if a lessor/landlord determines that they have a non-paying residential tenant, with or without a lease, and is on or in a covered property?

The lessor/landlord should refrain from serving a notice to vacate (also known as a "3-day notice") for non-payment and instead serve a 30-day notice to vacate after the expiration of the 120-day moratorium.
If the tenant has failed to vacate after the expiration of the 30 day period, then a notice to vacate/3-day notice may be served in order to begin the process to initiate an eviction action.
Consult Weltman before taking any action.
Looking to learn more about residential evictions and their procedures? Join attorney
Ashley Hawkins
for her upcoming webinar on May 20, 2020. Secure your spot by registering
here
.
For more comprehensive information and insights, watch our
Residential Evictions: Procedures and Post-Judgment
webinar.
This blog is not a solicitation for business and it is not intended to constitute legal advice on specific matters, create an attorney-client relationship or be legally binding in any way.