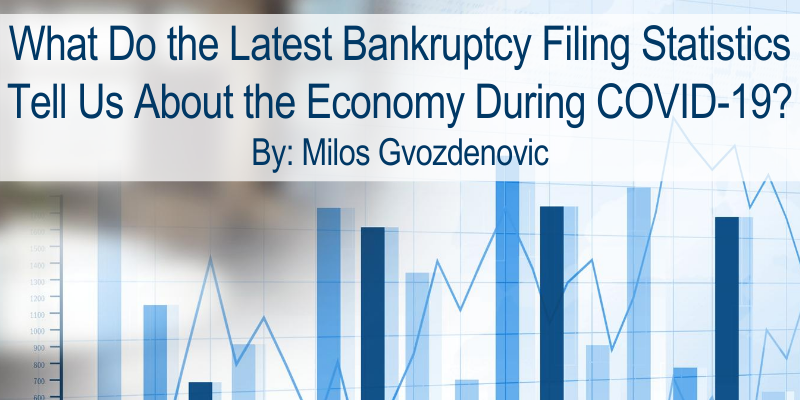 According to the statistics compiled by the
American Bankruptcy Institute
, bankruptcy filings across the country are
25% lower
than they were at this same time last year. On the consumer end, chapter 7 cases have decreased by almost 18%, while chapter 13 cases have decreased around 38%.
So what does this tell us about the state of the country's economy? Logic dictates that a decrease in bankruptcy filings would be an indicator of economic strength and stability. It could also be assumed that a decrease in bankruptcy filings would coincide with a low unemployment rate. But, that doesn't seem to be the case here. For the month of July, the U.S.
unemployment rate
was at 10.2%. This 10.2% unemployment rate, which was an improvement over the previous few months, still puts the country at an unemployment rate higher than at the peak of the Great Recession. If unemployment is so high, why are the bankruptcy filings so low? Let's take a look at some of the contributing factors:
The "Anthropause"
It's safe to say the COVID-19 pandemic has impacted everyone this year, either personally or professionally. As an attempt to reduce the spread of the coronavirus, almost all states have enacted some type of restrictions and safety protocols on travel, business, and general human interaction. In addition to the state-imposed restrictions, many people have personally chosen to limit their movement during this pandemic. This mass global slowing of human activity has been referred to by scientists as an "
anthropause
."
Due to these limitations on human activity, the natural conclusion would be that most prospective debtors who were considering filing for bankruptcy are either unable or unwilling to do so at this time. It may be difficult or unsettling for someone to travel and meet with an attorney in-person for legal representation. Although technology is available to allow many of these interactions to be done virtually, some debtors, and even some attorneys, may not have had the ability to do so either due to financial limitations or a lack of technological savvy.
Collection Moratorium
Any activity we choose to do is done out of motivation and that motivation can come from multiple sources. The decision to file bankruptcy is no different. Many bankrupt debtors are motivated by their desire to fix their credit, while others may require a little extra motivation. That motivation usually comes in the form of debt collection. The list of courts, government agencies, and businesses that have chosen to place a moratorium on collection activities is exhaustive. A simple online search of the term "collection moratorium" will provide endless articles discussing various moratoriums imposed on collection, foreclosure, and in particular, eviction. If the debtor owes a debt, but that inability to pay said debt does not affect their day to day lives, then their motivation to file for bankruptcy is almost non-existent.

Super Unemployment
At the beginning of this pandemic, Congress rolled out the "
CARES Act
" to stem the potential economic fallout from the
pandemic
. The immediate and direct benefit to the unemployed was a lump-sum cash assistance payout, an additional $600.00 per week in unemployment benefits, and an extension of the duration of unemployment benefits by 13 weeks. A large amount of unemployment recipients who were either not earning enough on unemployment to maintain their standard of living, or were nearing the end of their unemployment benefits, received a financial boost from the government. In turn, many people who would have considered filing for bankruptcy may have no longer needed to file. There have even been reports that some unemployment recipients were earning more income with the super unemployment than when they were actually working.
Regardless of the reasoning for the decline in bankruptcy filings, it seems to be pretty evident from the unemployment figures that the strength of the economy has not been a factor. At this time, we can only speculate on the reason for the decline, but there are clearly contributing factors stemming from the pandemic.

This blog is not a solicitation for business and it is not intended to constitute legal advice on specific matters, create an attorney-client relationship or be legally binding in any way.