The
Coronavirus Economic Stabilization Act of 2020 (CARES Act)
previously provided that a borrower was able to obtain a
forbearance
on a federally-backed mortgage loan. On December 27, 2020, the
Consolidated Appropriations Act (CAA)
was signed into law and provided further assistance for both borrowers who entered into such forbearance, as well as lenders.
As a result of the CAA, a qualified mortgage servicer, more closely defined as a servicer of a federally-backed mortgage loan, is now able to file a supplemental proof of claim in chapter 13 bankruptcy cases for payments deferred under a CARES Act forbearance agreement that have not yet been received. Although the claims bar date may have passed, the CAA provides that the supplemental proof of claim may be filed, although the claim must be filed within 120 days after the end of the forbearance period.
A supplemental proof of claim filed under the above provisions of Section 1001(d) of the CAA must include:
The relevant terms of the modification or deferral,
A copy of the modification or deferral if in writing, and
A description of the payments to be deferred.
Lenders and servicers should revisit and revise their processes to ensure these supplemental claims are completed, as well as be aware when the CARES Act forbearance expires so that the supplemental proof of claims are timely filed. If these supplemental claims are not timely filed within the 120-day time period after the forbearance expiration, they will likely be barred.

In addition to allowing the supplemental proof of claim, the CAA has also provided a provision whereby, upon a filing of one of these CAA supplemental proof of claim, the debtor may file to modify the chapter 13 plan to provide for the claim. However, if the debtor does not file to modify within 30 days of the claim being filed, the court, trustee, bankruptcy administrator, or any party in interest may file to request such a modification.

Lenders and servicers who file a supplemental proof of claim should monitor, or have their counsel monitor, the bankruptcy docket to ensure the modification takes place. Specifically, if the debtor does not modify their plan within the 30-day time period, and another party does not file for such modification, servicers should be prepared to file a motion to modify the plan, and ensure this takes place as soon as possible after the 30 days expiring, and before the plan period ends.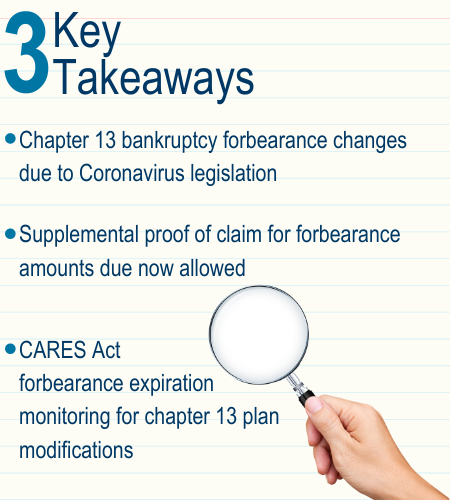 These provisions of the CAA will sunset on December 27, 2021. Weltman will continue to monitor for any additional changes and will keep our clients updated. If you have any questions, please feel free to reach out to Weltman's Bankruptcy team.

This blog is not a solicitation for business and it is not intended to constitute legal advice on specific matters, create an attorney-client relationship or be legally binding in any way.