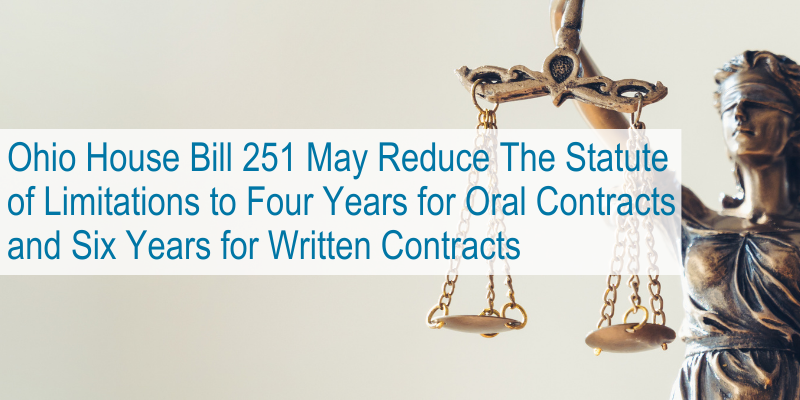 For several years, a number of collections industry organizations, including the
Ohio Receivables Management Association
and the
Ohio Creditor's Attorneys Association
, have been working with Ohio legislators to negotiate reasonable terms for an amendment to Ohio's statute of limitations for both oral and written contracts. As introduced,
H.B. 251
would have drastically reduced the statute of limitations for both oral and written contracts from six and eight years, respectively, to just three years for both.
As those of us in the industry know, it can take a lot longer than three years to fulfill one's financial obligations. Filing a complaint against a consumer is generally a last resort. However, shortening the applicable statute of limitations to three years would force a creditor's hand much more quickly. A six-year statute would provide consumers with adequate time to resolve their debts outside of the court system.
Through the efforts of multiple industry organizations, the bill sponsors, George Lang and Brett Hillyer, and Majority Floor Leader Seitz, the bill was amended in the House to only shorten the statute of limitations to four years for oral contracts, six years for written contracts, and six years for consumer transactions. Other language was included to correct an overextension of tort reform legislation to all civil actions under ORC §2305.03. The bill also included a definition of "accrual," which eliminated the uncertainty on a credit card debt claim, left unresolved by a 2016 Ohio Supreme Court decision.
Sub H.B. 251 passed out of House Civil Justice Committee on Nov. 12, 2019, by a vote of 11-0. It passed the House on Nov. 19, 2019, by a vote of 92-0. After nine hearings, the Senate Judiciary Committee passed it on Dec. 2, 2020, by a vote of 8-1.
Yet, on Dec. 9, 2020, with no advance warning, a floor amendment was adopted that stripped many of the negotiated provisions. Importantly, one of the provisions removed was the definition of "consumer transactions" and the six-year statute of limitations afforded to those transactions. This definition was an attempt to allow accounts stated to serve in place of a written contract, thus applying a six-year limitations period.
Ohio residents are encouraged to contact their Representative to request that they do not concur with H.B. 251. The search tool
HERE
will help you identify your local Representative.
This blog is not a solicitation for business and it is not intended to constitute legal advice on specific matters, create an attorney-client relationship or be legally binding in any way.