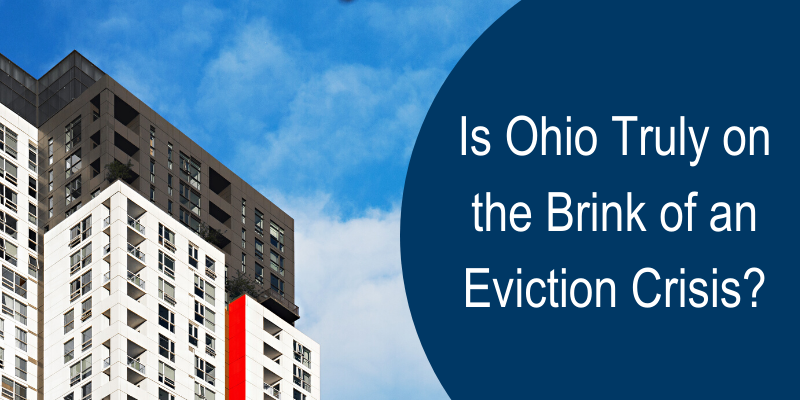 With the COVID-19 pandemic continuing to wreak havoc on everyday life, both renters and low-income homeowners are feeling the pressure. As a non-uniform state, most, if not all, housing courts in Ohio followed the Ohio State Supreme Court's guidance on putting a halt to regular evictions during the pandemic. However, as Ohio begins to reopen, the question has arisen: What will life look like on the other side of this? Reopening housing court cases, after this closure, courts will undoubtedly face a surge of new eviction filings – paired with the huge backlog of cases that are already waiting for legal attention. This anticipated heavy eviction caseload will likely prompt courts to implement new rules and procedures to manage this.
Housing courts will need flexible methods for landlords, tenants, and mortgage companies alike. Flexibility will be necessary to prevent the courts from being overwhelmed with eviction actions, landlords from having to make very difficult decisions, and aiming to keep families in their homes and off the street during a global pandemic.
Provisions of the
federal CARES Act
protect some renters from eviction (renters receiving federal assistance or housing vouchers and those in properties with federally backed mortgages), but do not shelter all tenants from potential eviction. However, courts within Cuyahoga County have taken some steps to potentially alleviate the stress for impacted tenants and landlords.
Right to Counsel: There has been talk of expanded rental assistance programs, and, back in October 2019, the City of Cleveland created a right to counsel requirement for low-income tenants with children. The United Way of Greater Cleveland will work with Cleveland City Council to spearhead the program, while United Way will contract with The Legal Aid Society of Cleveland to provide the legal services. Legal Aid will provide access to legal representation by its staff, pro bono attorneys, and other subcontracted entities. This right to counsel will begin on July 1 of this year.
Federal Funding: It is also recommended that Cuyahoga County should consider using some of its federal CARES Act funding to underwrite efforts similar to the City of Cleveland's to help mitigate evictions in the surrounding Cleveland suburbs.
Temporary Assistance to Needy Families (TANF): Another option for relief is unused TANF funds, which would provide a potential source of funding to help bolster housing security for these families. The Coalition on Homelessness and Housing in Ohio (COHHIO) has called on Governor Mike DeWine to authorize the use of $35 million dollars in unused TANF funds to back its housing program for homeless families. In Cuyahoga County, certain low-income renters with children in the household who are at imminent risk of homelessness can now apply for emergency TANF funds. Please visit edeninc.org for more information on the application for TANF funds and a complete list of programs offered through their organization to assist with homelessness.
Outside of Cuyahoga County, rental assistance programs are being considered state-wide. COHHIO is also advocating for a proposal to be sponsored by Senator Sherrod Brown and U.S. House leaders to include a $100 billion time-limited emergency rental assistance program in the next Coronavirus relief bill. Under this proposal, low-income tenants who recently lost their jobs would apply for financial assistance that would be paid directly to their landlords. This proposal would allow some back rent to be covered, as well as current and upcoming rent payments, until the tenant obtains employment again. This would keep tenants housed while guaranteeing that property owners can continue earning their livelihood as well. Landlords, mortgage holders, and mortgage companies may be able to participate in rental assistance to limit evictions or show forbearance until the times ahead become clearer.
At the end of the day, eviction actions are equitable proceedings, meaning, courts can consider facts outside of the law – such as how the parties involved (both tenants and landlords alike) have been affected by COVID-19. That said, the courts SHOULD consider outside factors. While eviction moratoriums can help in the short term, tenants are still responsible for payment of rent, and landlords still need that rental revenue to pay their own bills. Flexible methods will be needed for all.
If you're a landlord looking for assistance in navigating your residential evictions, be sure to attend the upcoming Weltman Webinar, this Wednesday, May 20th at 11:00 a.m.
Click here
to register.
This blog is not a solicitation for business and it is not intended to constitute legal advice on specific matters, create an attorney-client relationship or be legally binding in any way.