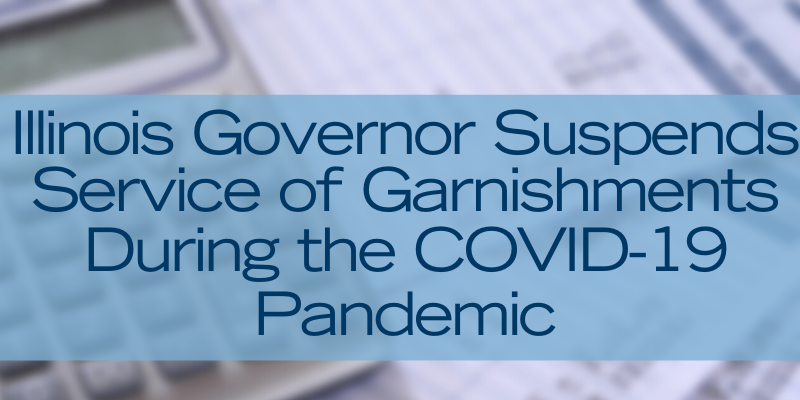 In response to the widespread economic fallout caused by the COVID-19 Coronavirus pandemic, and the stimulus checks arriving in millions of consumer bank accounts,
Illinois Governor J.B. Pritzker issued Executive Order 2020-25
. The Executive Order suspends the statutory provisions applicable to service of a garnishment summons, wage deduction summons, and citations to discover assets on consumer debtors and consumer garnishees. This suspension took immediate effect on April 14th, 2020, and lasts for the duration of the Gubernatorial Disaster Proclamations, which currently extend through April 30th, 2020.
Executive Order 2020-25 comes on the heels of Governor Pritzker's declaration of all counties in Illinois as a disaster area on March 9th, 2020, and his issuance of the state's stay at home order, which took effect on March 20th, 2020, and currently extends through April 30th, 2020. The Governor found that "involuntary debt collection undermines the ability of debtors to obtain and preserve necessities including, but not limited to, food, medicine, housing and transportation, and to protect themselves from COVID-19 by maximizing social distancing."
This post-judgment specific ban applies only to consumer debtors and consumer garnishees. Additionally, the prohibition applies to the service of garnishments and citations to discover assets, not to their filing; nor does the Executive Order apply to ongoing deductions. Prior to the issuance of Executive Order 2020-25, courts throughout Illinois had already significantly curtailed operations due to the coronavirus pandemic, restricting services to only essential and emergency functions. The current emergency measures taken by Illinois courts are set to last until the end of the current stay-at-home order and, in some cases, through May 18th, 2020.
This blog is not a solicitation for business and it is not intended to constitute legal advice on specific matters, create an attorney-client relationship or be legally binding in any way.