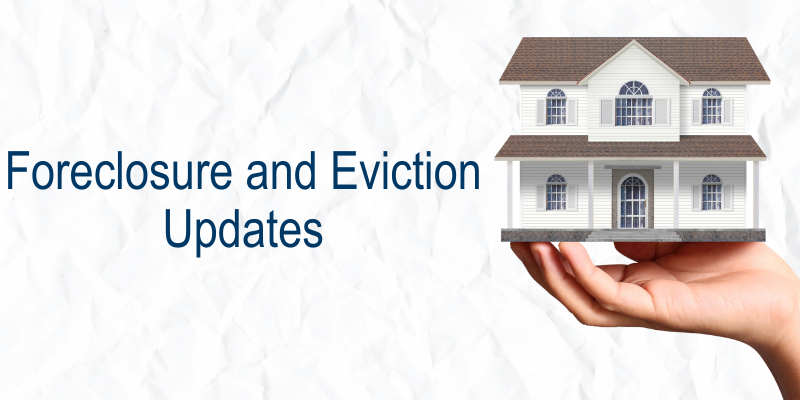 Many courts have resumed processing foreclosure cases, of which are not subject to a Federal or State COVID-related moratorium. Recently, the Government Sponsored Enterprises (
HUD
,
Fannie Mae, Freddie Mac.
, etc. - also known as GSE's) announced that they would be extending their COVID-related foreclosure moratorium through December 31, 2020. The GSE foreclosure moratorium only affects occupied properties with a GSE mortgage. Vacant properties and private lender/investor mortgage loans are not affected by this moratorium.
Fewer new foreclosure cases are being filed as a result of the GSE moratorium. Currently, courts are processing foreclosure cases very efficiently, despite the COVID restrictions currently in place to help safely social distance by limiting personal appearances in court. However, once the GSE moratorium is lifted, we anticipate many more new foreclosure cases will be filed. Once that occurs, a backlog of cases will result in certain inevitable delays in the foreclosure process. Therefore, we recommend that lenders identify which of their mortgages are currently in default but not subject to a moratorium, and consider proceeding with those matters now to avoid the anticipated post-moratorium delays.
As of September 4, 2020 the Center for Disease Control issued an
order
temporarily halting residential evictions nationwide to prevent the further spread of COVID-19. The order provides that an owner of a residential property, with a legal right to pursue eviction, shall not evict any covered resident from any residential property. To be considered a covered resident under this order, the resident must provide the following in a sworn statement to the property owner:
(1) The resident has used best efforts to obtain all available government assistance for rent or housing;
(2) The resident earns no more than $99,000 in annual income as an individual, or no more than $198,000 if filing a joint tax return. Or, said resident was not required to report any income in 2019 to the U.S. Internal Revenue Service, or received a CARES Act stimulus check;
(3) The resident is unable to pay the full rent due to substantial loss of income, or extraordinary medical expenses;
(4) The resident is exerting best efforts to make timely partial payments that are as close to the full payment as the individual's circumstances may permit, taking into account other nondiscretionary expenses; and
(5) Eviction would likely render the resident homeless—or force the resident to move into and live in close quarters with others—because the resident has no other available housing options.
It is expected that courts will liberally construe these requirements and most, if not all, residents seeking relief under the order will be granted a stay of eviction.
If you are a lender or landlord with questions concerning foreclosures or evictions in your state during this time of uncertainty, Weltman's
Real Estate Default Group
has experienced foreclosure and eviction attorneys ready to assist.
This blog is not a solicitation for business and it is not intended to constitute legal advice on specific matters, create an attorney-client relationship or be legally binding in any way.