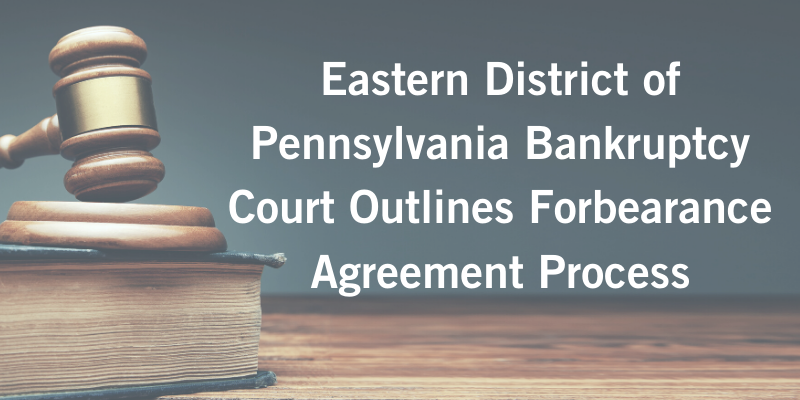 On April 22nd, 2020, the Chief Judge of the United States Bankruptcy Court for the Eastern District of Pennsylvania signed Misc. Order 20-3007 entitled, "Procedures Implementing Forbearance Agreements." The Order outlines the process for notification of forbearance agreements in active chapter 13 bankruptcy cases (confirmed and unconfirmed) in this district, due to the COVID-19 pandemic, and remains in effect until further order of the court.
The Order provides the following steps that creditors should follow:
In chapter 13 cases, a secured creditor may notify the court, the trustee, and all interested parties of the existence of a forbearance agreement between said creditor and the bankrupt debtor, whether written or unwritten, by filing a Notice of Payment Change/Forbearance pursuant to Fed. R. Bankr. P. 3002.1(b).
In addition to the Notice filed on the Claims Register, the secured creditor must also file the Notice on the main case docket, and must serve the Notice on debtor(s), debtor's counsel, and the Trustee.
The Notice of Payment Change/Forbearance must state the terms of the forbearance, the starting and termination date of the forbearance period, and any other material terms and conditions therein.
The Order further states that any communication that is connected to an attempt to enter into a forbearance agreement, whether successful or not, will not constitute a violation of the automatic stay.

Once the forbearance period has expired, or prior to expiration, the burden will be on the bankrupt debtor to take necessary steps to address the status of the account by either:
Bringing the post-petition status of the account current;
Obtaining an extension of the forbearance period;
Obtaining other loss mitigation relief; or
Amending the chapter 13 plan
No rights of a secured creditor, under the terms of the underlying note and mortgage, the Bankruptcy Code or applicable non-bankruptcy laws and regulations, are waived by the Order once the forbearance period has expired, unless otherwise agreed upon in the Notice of Payment Change/Forbearance between the secured creditor and bankrupt debtor. These rights include the ability to seek relief from the automatic stay for non-payment of the post-petition monthly installments or other non-payment basis.

If you need assistance crafting
forbearance agreements
with your debtors, as well as navigating the process in this District and across the country, please contact our office. We will continue to monitor changes in this District and across the country and advise as changes take place.
This blog is not a solicitation for business and it is not intended to constitute legal advice on specific matters, create an attorney-client relationship or be legally binding in any way.