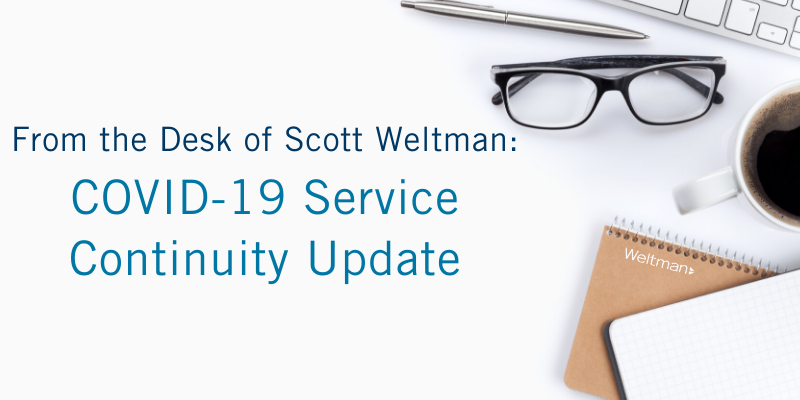 As we all monitor the coronavirus situation, I wanted to update our community accordingly. Weltman's top priorities remain the well-being of our employees and ensuring all operations are addressed as needed to support our firm and client business functions. Management meets daily to assess any updates and we continue to adjust our business model accordingly.
We have been in communication with the courts - receiving updates and working with them to ensure adherence with their guidelines regarding handling of matters, as well as scheduled court trials or hearings. Additionally, we are continuously in contact with our critical vendors to assess their pandemic readiness plans and actions to identify current and future anticipated impact on services provided.
Being in business for 90 years, we have experienced turbulent times before and we know how to adapt and take the steps needed to ensure we are best serving our business partners, employees, and communities. Pandemic impact is already included in our Disaster Recovery and Business Continuity failover testing. We routinely test our ability to re-route calls and communications and also measure the utilization of our disaster recovery site to ensure continual operations.
At this time, Weltman has not had any impact on our work due to the outbreak. As part of Weltman's Client Escalation Policy, clients will be notified of any disruptions to production over 24 hours via a client advisory. We are committed to our clients and employees and will do our part to reduce the spread of the coronavirus.
Should you have any questions or concerns related to our actions during these turbulent times, please contact your relationship manager or attorney and we will respond as quickly as possible. Furthermore, we will be posting any updates below, so be sure to check this page regularly.
This blog is not a solicitation for business and it is not intended to constitute legal advice on specific matters, create an attorney-client relationship or be legally binding in any way.