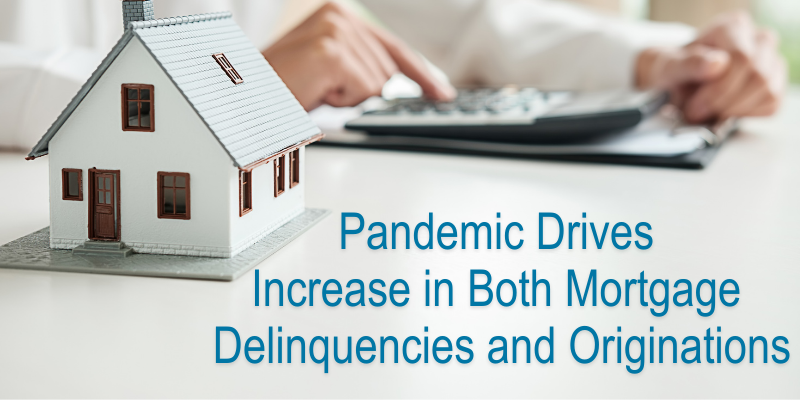 The latest data from mortgage industry tracker,
Black Knight, Inc.
, shows a 450% increase in the number of mortgages that are at least 90 days delinquent since pre-pandemic levels. At the same time, rates on 30-year loans have dropped below 3% for the first time, resulting in a record-setting amount of new mortgage originations: $1.1 trillion.
What does this tell us about the economy in this strange new world? Unfortunately, the data reflects an increasing gap between the proverbial "haves" and "have-nots."
70%
of the new mortgage originations have come from refinancing. In other words, those who are financially stable and already have good credit have been able to take advantage of the record-low interest rates in order to refinance their homes. This saved the "haves" hundreds, or even thousands of dollars a year, depending on the principal amount of their loans.
The "have-nots", however, were not so lucky. More than
11 million jobs
have been lost during the pandemic thus far. Those already living paycheck-to-paycheck before the pandemic and with less than stellar credit scores have not had the same opportunity to refinance. Not only were they unable to reduce their mortgage payments, they fell behind. Roughly 2.25 million mortgages are currently at least 90 days behind; the highest level since 2010.
Some of the government's interventions serve to benefit the already financially stable. Yet, the loss of jobs and the impasse regarding a second aid package adversely affects those who are less so. As COVID-19 keeps affecting our economy, it is likely that we will see these trends continue.
What does this mean for the future? With so many Americans facing the loss of wages, as a result of reduced hours, lenders must be proactive. Rather than waiting for consumers to default, communicating with borrowers now and providing short-term options, such as forbearance agreements and loan modifications, can help the at-risk save their homes while simultaneously allowing lenders to retain borrowers.
Looking even further ahead, lenders need to recognize that some borrowers face long-term or even permanent financial distress due to the loss of their jobs altogether. Lenders can stem the bleeding and preserve asset value by discussing liquidation options, such as deeds in lieu, as alternatives to foreclosure in exchange for maintaining occupancy. By being proactive and communicating with their borrowers during these unprecedented times, lenders can benefit both themselves and those impacted by the pandemic. Early and frequent conversations with borrowers are key to sustaining those credit relationships.
This blog is not a solicitation for business and it is not intended to constitute legal advice on specific matters, create an attorney-client relationship or be legally binding in any way.