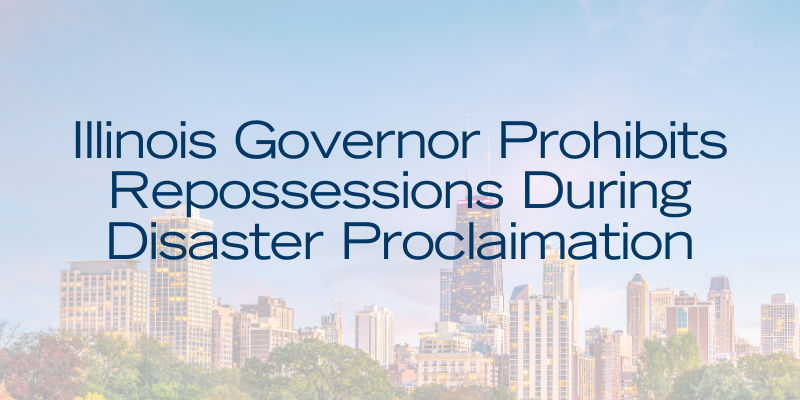 On March 9th, 2020, the Governor of Illinois, JB Pritzker, declared all counties in the state of Illinois a disaster area in response to the outbreak of COVID-19 ("Disaster Proclamation"). The Disaster Proclamation currently has no end date. Additionally, on March 28th, 2020, the governor issued Executed Order No. 2020-16 in response to the COVID-19 Disaster Proclamation. Executive Order 2020-16 deems the repossession of vehicles contrary to the interest of preserving public health and ensuring individuals are able to engage in permitted travel to limit the use of public transportation and to maintain social distancing.
As a result, the Executive Order prohibits the repossession of vehicles during the Disaster Proclamation and temporarily suspends the statutes that govern repossession. The Executive Order does not similarly suspend the replevin statute. Additionally, it does not relieve individuals of the obligation to make payments or to comply with any other obligation of their loan agreement.
If you need assistance reaching out to your consumers regarding auto loan payments, please contact our office. We will continue to review the governor's executive orders, as well as communications from the courts and our vendors. We will advise when the Illinois Disaster Proclamation comes to an end and repossessions are again permitted.
To see a copy of Executive Order 2020-16 please click
here
.
This blog is not a solicitation for business and it is not intended to constitute legal advice on specific matters, create an attorney-client relationship or be legally binding in any way.