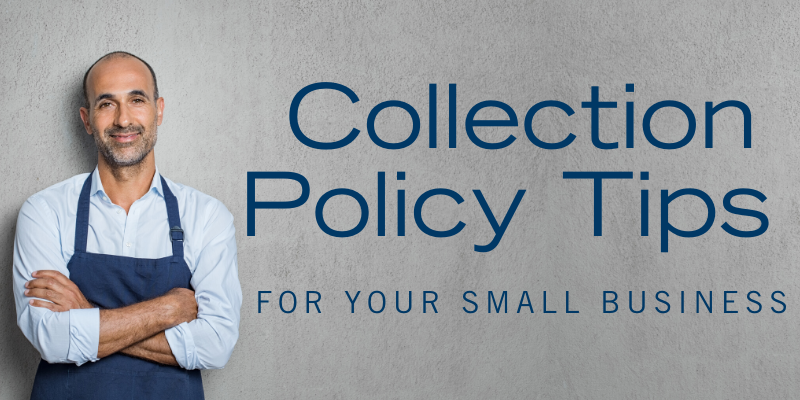 Our country is facing unprecedented challenges during the COVID-19 pandemic. In addition to health and wellness concerns,
76%
of small businesses are reporting a negative impact from the coronavirus;
dentists
and doctors are postponing and/or canceling appointments because of the outbreak,
bars
and restaurants are shut down, and commercial and consumer
tenants
have stopped paying rent.
In this lull, and as we all wait for the coronavirus situation to improve, small businesses of all types are looking for ways to boost cash flow now and into the future. Right now is a perfect time to revisit or write a collection policy for your organization.
Consider these four things to include in your collection policy to improve your receivables and increase your cash flow:
Begin with the mission of your organization.
Healthcare organizations aim to deliver excellent patient care. Restaurants strive to create and promote great-tasting food. Weltman's vision is to be the nation's leading provider of creditors' rights solutions through our core values of integrity, teamwork, client focus, innovation, and passion. What is the mission of your organization? What is your passion? A collection policy helps ensure your bills are paid in a timely manner so that you can fulfill that mission to the benefit of your community.
Define when and how to contact a customer.
Divide unpaid accounts into buckets depending on how long they have been delinquent. You will not want approach accounts 1-14 days past due in the same manner as accounts 45+ days past due. Aggressive follow up on accounts that have just gone delinquent can help resolve disputes or errors quickly. You also may want to involve customer service or the sales team to ensure positive business relationships remain intact. For seriously delinquent accounts, though, you will want to send a collection or demand letter and consider using certified mailing. The sales team or management should then follow up after the letter was received. Write out when and how your organization will follow up with consumers when accounts are past due.
Include a statement reinforcing ethical behavior.
In order to maintain your good reputation in the community, your staff must follow ethical standards and use collection methods above what is required by the law. Your policy should include guidelines for how to treat customers in a respectful and dignified manner without discriminating or threatening people on the basis of race, age, religion, or sexual orientation. It is essential to avoid any behavior that could be considered deceptive or fraudulent, and all customer information must be properly safeguarded. Add a code of ethics to your collection policy to document that your expectations are being clearly communicated to your staff.
Outline when to turn over delinquent accounts to a collection agency or attorney.
The decision to turn accounts over to a third party for collections will depend on (1) your tolerance and reserve for bad debt; (2) your willingness to give up control to an agency or attorney; and (3) how much is likely to be collected by the third party. Precisely define each item in your policy. Contact your third-party provider or potential third-party provider for help defining how they can best assist you.
Having a collection policy in place allows your business to be more streamlined, leaving little guesswork for when the issue arises. Don't overcomplicate it - the most efficient collection processes are proactive, simple, and consistent.
This blog is not a solicitation for business and it is not intended to constitute legal advice on specific matters, create an attorney-client relationship or be legally binding in any way.