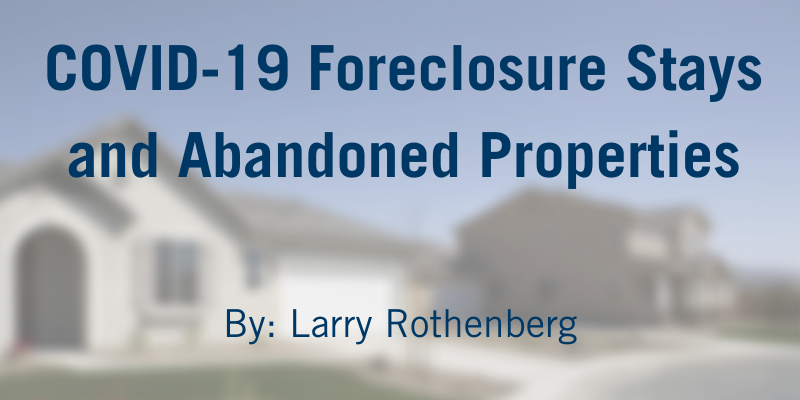 Can foreclosures proceed on abandoned properties notwithstanding the various foreclosure moratoria? We are raising this issue with the courts in an attempt to convince them to allow foreclosures to proceed on abandoned properties, as an exception to the moratorium.
The Federal CARES Act prohibits the servicer of a federally backed mortgage loan to (1) initiate a judicial or non-judicial foreclosure action, (2) to file a motion for a foreclosure judgment or order of sale, or (3) to execute an order of sale. This prohibition is in effect until May 17, 2020.

Many courts or individual judges abruptly imposed their own stays of their pending foreclosures. These particular stays may go further than the CARES Act's provisions. For example, a stay imposed by a court is not limited to federally backed mortgage loan foreclosures.

In addition, most courts ordering stays did not consider whether a stay on abandoned property foreclosures should be an exception.

For example, Cuyahoga County, Ohio entered an order staying all foreclosures for 60 days. In an April 3 conference call with the chief foreclosure magistrate and many of the judges, we raised the issue that in view of the significant negative impact abandoned properties have on the surrounding properties, it would be sound policy to allow foreclosures on abandoned properties to proceed. The chief foreclosure magistrate agreed and has recommended to the presiding judge and the court administrator that the court adopt a procedure allowing the creditor's counsel to file a notice stating that the property is abandoned, allowing the foreclosure to proceed unless the mortgagor or another party objects.

We also monitor courts' directives for stays on foreclosure throughout the country. If you desire an update in that regard, please let us know.

If you have confirmed that a property is abandoned and should be foreclosed, or is in a pending foreclosure, please advise us so we can attempt to convince the court to allow the foreclosure to proceed. Of course, some courts are closed, so it will not be possible in those courts.

This blog is not a solicitation for business and it is not intended to constitute legal advice on specific matters, create an attorney-client relationship or be legally binding in any way.