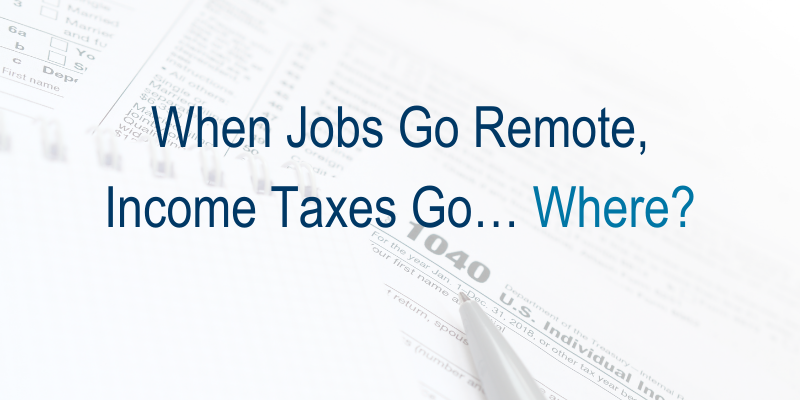 In March of this year, the Ohio Legislature passed House Bill 197, legislation full of COVID-19 related measures, allowing businesses to continue withholding city income taxes based on the company's location, even if employees work remotely. Two recent pieces of legislation—Ohio House Bill 754 and Senate Bill 352—were introduced at the end of August to restart the debate over where taxes need to be paid (to what locality taxes are due) by employees working remotely during the coronavirus pandemic. If HB 197 provision is repealed, income taxes may be payable to the municipality where an employee lives, versus the municipality where the employer is located, if the employee chooses to work from home.
As hardworking professionals, this topic pertains to each of us. You may find yourself asking the following:
Would the legislation actually change anything about how a business withholds income taxes?


Even if legislation is passed and signed into law, there may be legal arguments that because the location of a core business has not changed, income taxes should not change either, regardless of whether employees are now working remotely. Some factors in consideration may include the use of servers from business headquarters to enable remote work, where data and work are ultimately stored, and what additional factors are used to support the actual business. These could be enough to demonstrate the liability to a municipality for income taxes does not need to change.

How could a municipality's revenue be impacted?
The data demonstrates that if income taxes are no longer due to the municipality where the business is located, urban areas would take a significant revenue hit. For example, Cleveland's income tax rate is 2.5%, and with approximately 250,000 jobs, it generated more than $440 million in 2019 or about 65% of overall revenue for the city. Moving income tax revenue out of Cleveland would be a significant hit to the city's budget. However, even smaller jurisdictions are budgeted based on existing income tax structures and a shift would cause uncertainty. Plus, the tax revenue of all municipalities has already been hit economically by the coronavirus.
Could an employee simply be required to self-report taxes?
One option, if either of the two bills are signed into law, could be for employees to self-report taxes and pay quarterly estimates. Although this may be difficult for employees, it shifts the burden away from the employer. In addition, it would be very difficult to impossible for the government to oversee. For example, self-reporting sales tax with Amazon and self-reporting income taxes from gig economy work has not been highly successful.
While this discussion continues to unfold, Weltman will monitor and provide updates as they become available.

This blog is not a solicitation for business and it is not intended to constitute legal advice on specific matters, create an attorney-client relationship or be legally binding in any way.