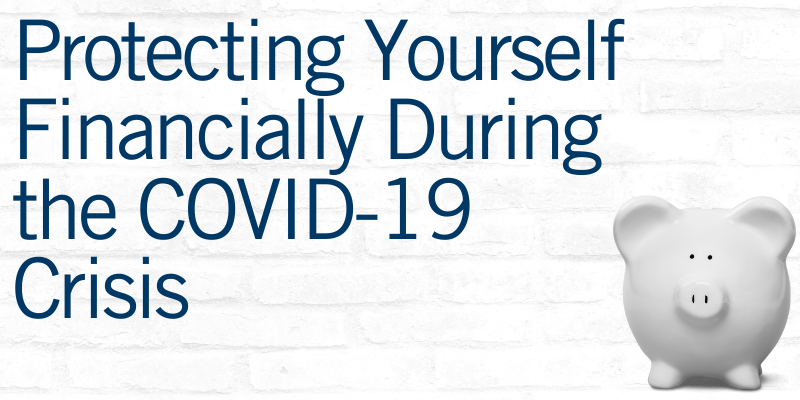 To say the least, this is a time of great upheaval, uncertainty, and anxiety. Although there is no definitive timeline for the duration of this pandemic, and people have been affected in a variety of different ways, one certainty that remains is consumers ought to seek financial security as this progresses. Based on our perspective from the creditors' side, we look to provide some insight on how you can best protect yourself currently.
Consumers can adopt a number of best practices to maintain their financial affairs as this crisis progresses:

Make a budget and stick to it- While this advice is useful even when times are good, it is even more relevant now. With decreased and uncertain incomes, it is important to assign a job to every dollar, whether it is buying food, paying rent or a mortgage, or fueling a vehicle. Take advantage of technology and utilize smartphone apps or websites to help automate your budgeting process.
Talk to your creditors- Whether it is an open account or a judgment, your creditor may not know your exact financial situation. Assuming they will know about any income problems you may have can be a recipe for disaster. Your creditors are human, after all, and will be willing to work with you. Many have already rolled out programs in response to this catastrophe and are waiting for people to take advantage of them.
Talk to people you trust- This serves to keep both you and them safe. The more individuals communicate openly and honestly, the more likely it is to get a second set of eyes on a suspicious financial document.

Use trusted phone numbers to return contacts from financial institutions- Some scammers masquerading as your bank send emails or text messages demanding immediate action through an online form or a new telephone number. Hold back the anxiety and wait until you can find a phone number from a different piece of communication, or through an online source. Then, contact the company and ask about the correspondence you received.

Don't cash checks from unknown sources- Occasionally, scammers will send out large checks written from fraudulent accounts with little or no information about why the recipient is getting the check. While it may be tempting to accept "free money," and it may even seem realistic given the government's stimulus efforts, do not deposit the check. Scammers will use the deposit to find your checking account and may exploit it.

Watch for other check scams- Another common variation on check scamming is the overpayment scam. A scammer will agree to send you funds for some reason- perhaps in payment for something they bought online or for "work uniforms" for a fake job. The scammer will send you a check with an excess amount- while they agreed to $500, they've sent $750. The scammer will then instruct you to deposit the check and then immediately transfer the excess amount back to them. The check will eventually bounce, leaving your account potentially overdrawn to the tune of $750 in our example and the scammer $250 richer.

If it sounds too good to be true, it probably is- Times may seem desperate, but we should not abandon reason when it comes to our financial health. The unsolicited job offer during the good times may be easy to brush off, but now, it could seem like a life preserver. Practice skepticism, and don't be afraid to ask questions.

This is by no means an exhaustive list of ways to stay in good financial standing during these trying and uncertain times. However, our firm hopes that all the people we encounter in an average day stay healthy as we weather this crisis together.

This blog is not a solicitation for business and it is not intended to constitute legal advice on specific matters, create an attorney-client relationship or be legally binding in any way.