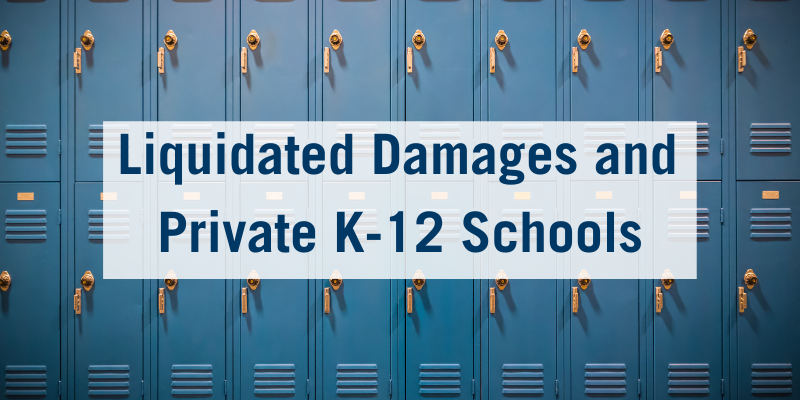 Private elementary and secondary schools are unique creditors. Unlike many businesses, their reasons for delivering services are almost entirely altruistic - they seek to educate a child with a particular set of ideals as the pole-star. Their motive is generally not for profit. That being said, the families of some students may default on their obligation to pay for the education, which can sometimes result in a lawsuit.
In many cases, a student attends for a period of time and then matriculates from the school. The school can usually produce a clear record of what the student's family owes, accounting for any payments or credits against the outstanding tuition. This can become complicated when a student withdraws after only a short few weeks in the school or does not even attend at all. The school is still out the money it budgeted and needed for the education of that student; it still hired teachers and staff, maintained physical or electronic facilities, and purchased instructional materials. Further, it chose that student over others. Put bluntly, a school cannot "wipe the slate clean" of its own obligations when a student leaves without attending the school. The school may still be entitled to recover even when the student did not attend.
This can be especially pronounced during the current pandemic, when schools are faced with difficult choices regarding staffing and facilities, as well as whether to use their facilities for in-person learning. Oftentimes, part of the marketing for private elementary and secondary schools points to their unique cultures; the education is just as important as the act of attendance and participation in the school's traditions. Thus, it is often a question of valuing the invaluable.
One solution to the question of the economic value of a partial education is what is commonly referred to as a "liquidated damages" clause. These are contractual provisions where parties determine the amount of damages in the event of a breach. They can set an explicit dollar amount, or simply proclaim that there are no refunds if a party breaches after a certain date. These are especially useful for setting damages on contracts where the value can be difficult to determine. While a strong education is unquestionably valuable, when called upon to assign a value to their unique educational experiences, private schools can point to liquidated damages clauses in their attendance contracts and request courts use those amounts to make the schools whole.
Ohio law permits parties to enter into contracts that apportion damages in the event of default, but may not do so if those damages constitute a penalty. In other words, courts want to compensate a non-breaching party for its losses under a contract, not produce a windfall. Courts implement a three-part test to determine whether a liquidated damages clause is enforceable:
The damages must be uncertain as to amount and difficult of proof;
The contract as a whole is not so manifestly unconscionable, unreasonable, and disproportionate in amount as to justify the conclusion that it does not express the true intention of the parties;
The contract is consistent with the conclusion that it was the intention of the parties that damages in the amount stated should follow the breach thereof.
Courts will look at the whole instrument, its subject matter, the ease or difficulty of measuring the breach in damages, the amount stipulated, the typeface and font of the clause, and the circumstances of the agreement, among other factors. The inquiry is highly fact-specific, and there is no hard-and-fast answer as to what would constitute an enforceable provision.

Although not all-encompassing, consider the following checklist for liquidated damages:
If you are an institution seeking to employ a provision as outlined above, retain the services of an attorney to make sure that it is compliant with Ohio law and enforceable.
Although adding a liquidated damages clause to future contracts does not guarantee you will recover under it, it may still be beneficial and worth consideration.
Maintain accurate records.
In short, liquidating damages in a contract can limit the time and cost of proving actual damages, and allow private schools to focus more on education than litigation.
This blog is not a solicitation for business and it is not intended to constitute legal advice on specific matters, create an attorney-client relationship or be legally binding in any way.