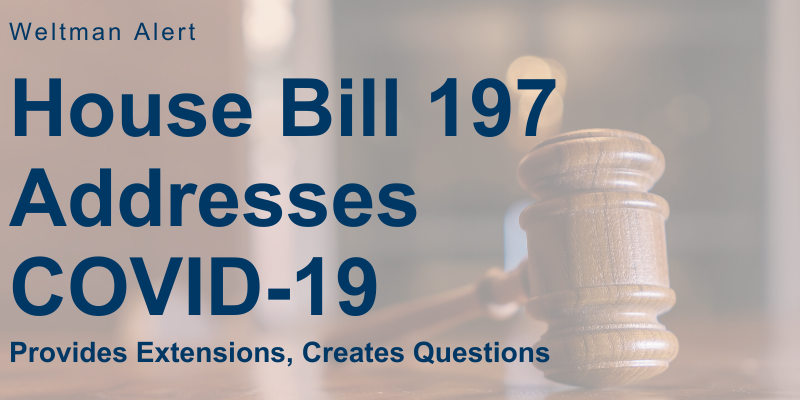 In the midst of the COVID-19 pandemic, Ohio's state government took numerous steps to prevent the spread of the disease, preserve human life, and promote public order. Many of those orders are well known, such as the closure of bars, restaurants, daycares, and non-essential businesses. As we have seen in China and Italy, these steps are mandatory to reduce the contagion. Others, such as the extension of state income tax filing deadlines and vehicle registrations, are less dramatic but serve an equally important role as they promote public order and will ease the transition in and out of the current crisis.
Of particular interest to creditors is
Ohio House Bill 197
, section 22, which provides that the statute of limitations for civil cases, that would otherwise expire between March 9, 2020, and July 30, 2020, shall be tolled. This applies to all causes of action, including those under the Ohio Revised Code 2305 statute of limitation as well as all other Ohio Revised Code provisions. The same section also extends the "time in which discovery of any aspect of discovery must be completed," as well as the time in which a party must be served with a complaint. The bill is expected to be signed into law by Governor Mike DeWine in the coming days.
The statute of limitation extension affects many practitioners, but the focus of this article is on creditors. With the reduction in capacity created by social distancing and understandable employee absences at courts, law firms, and creditors themselves, this five-month extension on practically all civil claims is tremendous. It reduces the need to press already limited resources to file suits. Furthermore, this provides a new tool in the toolbox for those who interface with debtors; they may now be able to exercise compassion by forestalling the filing of a lawsuit without fear of compromising the creditor's position. This is especially important given the apparent and drastic increase in unemployment in Ohio.
The extension for discovery is less clear. The language in the bill is expansive but vague. If a party was served with discovery requests on March 9, 2020, is the due date for discovery now July 30, 2020? What about a party whose responses are due on March 27, 2020 - is that response time extended as well? How does this affect pending cases that must have discovery completed before July 30, 2020, as the trial is set before that date? This could be an unprecedented intervention by the General Assembly in the dockets of Ohio's myriad courts, serving to smooth out the patchwork of orders and policies adopted by these courts through the brute-force technique of a legislatively mandated discovery extension.
Of particular note for creditors is that this serves as a hedge against more extreme action. The Massachusetts attorney general proclaimed that for 90 days after March 27, 2020, essentially any collection action, ranging from outbound telephone calls to the filing of new lawsuits to executions on judgments, will be considered an unfair and deceptive act or practice, thus subjecting the creditor to liability. While there are certain ambiguities in the rule, as well as significant questions regarding its constitutionality that are beyond the scope of this article. Should Ohio adopt a similar provision, the significant extension on the statute of limitations will provide some security to creditors.
This fluid, unprecedented time continues to evolve daily. To stay up-to-date with any COVID-19 legal news, visit our COVID-19
alerts
section on Weltman.com and
join our email list
.
This blog is not a solicitation for business and it is not intended to constitute legal advice on specific matters, create an attorney-client relationship or be legally binding in any way.