Whether it's real or psychological, playing a sport on your home field can be advantageous. The same is true for creditors- the laws of a home state are familiar, and oftentimes the products are written in contemplation of those laws, especially with respect to interest rates and late fees. Given the realities of interstate commerce, creditors often find themselves offering the loan products outside of their home states. Depending on the entity, however, they may be able to apply their home state laws in litigation.
National Banks
Many nationwide banks are "national banks" within the meaning of federal law. What it means to be a national bank in terms of regulations is beyond the scope of this article. Article VI, Clause 2 of the United States Constitution reads as follows: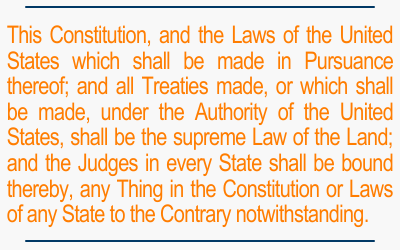 In other words, the Supremacy Clause of the U.S. Constitution "grants Congress the power to preempt state laws." Preemption can occur in one of three ways:

Express preemption occurs when Congress declares outright that an enactment preempts state law.
Field preemption occurs when Congress enacts a scheme of federal regulations that is "so pervasive as to make reasonable the inference that Congress left no room for the States to supplement it, or where an Act of Congress touch[es] a field in which the federal interest is so dominant that the federal system will be assumed to preclude enforcement of state laws on the same subject.
Conflict preemption occurs "when the state law actually conflicts with federal law. Preemption due to conflict exists when it is impossible to comply with both state and federal requirements or where state law poses an obstacle to accomplishing congressional objectives."
Whether or not a state may view its own law as highly important is irrelevant- if it is preempted by federal law, then federal law controls. This is critical in two areas; the charging of interest and the necessity of registering as a business in a foreign state.
In Marquette Nat. Bank of Minneapolis v. First of Omaha Service Corp., 439 US 299 (1978), the US Supreme Court held that the above statute authorizes a national bank to charge out of state credit card customers an interest rate allowed by the bank's home state, even when that rate is higher than what is permitted by the states in which the cardholders reside. This is an example of preemption.

National Banks are also exempt from the need to register to do business in a state. They are instrumentalities of interstate commerce, and their registration with the federal government preempts the need to register with a state.

Federal Deposit Insurance Corporation- Insured State-Chartered Banks
Not all banks are "national banks." Some are state-chartered banks insured by the Federal Deposit Insurance Corporation (FDIC). The differences between the various institutions is, again, beyond the scope of this article.

12 USC 1831d permits a state-chartered FDIC-insured bank to apply the laws of its home state with respect to interest and fees. The exact language of the statute permits the institution to charge the greater of "not more than 1 per centum in excess of the discount rate on ninety-day commercial paper in effect at the Federal Reserve Bank in the Federal Reserve district where such state bank or such insured branch of a foreign bank is located" or "at the rate allowed by the laws of the state, territory, or district where the bank is located." The functional effect of this is to track the National Bank Act with respect to an institution's ability to provide banking services in interstate commerce.
Credit Unions in Ohio
Credit unions operating in Ohio are subject to two different statutes regarding interest. The rules are different for federally-chartered credit unions and Ohio-chartered credit unions. The differences between these two types of entities are, again, beyond the scope of this article.
Ohio-chartered credit unions may charge 1.5% per month (18% per annum) under Ohio Revised Code section 1733.25, absent any sort of signed writing from a consumer. With a signed writing indicating the consumer's assent, however, they may charge greater than 18% per annum under Ohio Revised Code 1733.251.
Federally-chartered credit unions are subject to a different statute. 12 USC 1757 permits a 15% interest rate cap on all loans, including credit cards. Much like the national banks and FDIC-insured state-chartered banks, this federal law preempts state laws that would otherwise limit interest to lower rates.
The Home Field Advantage
The end effect of this system of preemption is that an institution in Ohio may apply the laws of its state in its contracts regardless of whether the other party is also in Ohio or any other state. This provides a simplified environment for these businesses; an institution needs only to know its own state's laws regarding interest and fees rather than tailoring different agreements to each state. The end effect is that the institution has less burden. The consumer benefits by having a competitive marketplace for financial services unburdened by the possibility of protectionist policies calculated to disadvantage out-of-state institutions adopted by individual states. Furthermore, in this time of heightened mobility, both the institution and the consumer are aware of the law applicable to the contract, making its application more predictable for both parties- if the parties move, the law will still stay the same.
This blog is not a solicitation for business and it is not intended to constitute legal advice on specific matters, create an attorney-client relationship or be legally binding in any way.