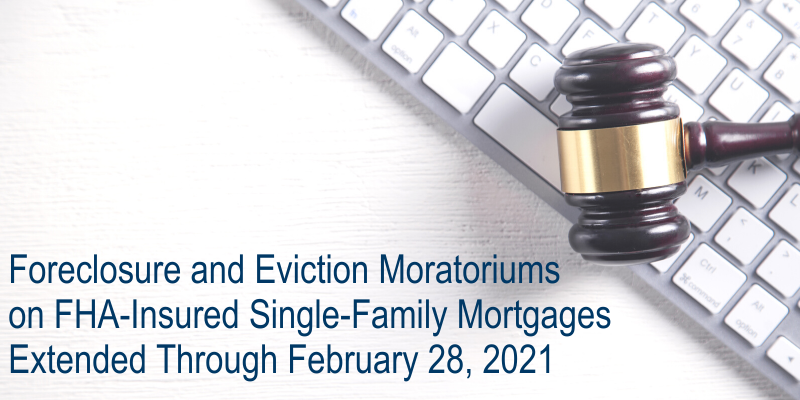 The U.S. Department of Housing and Urban Development issued its
Mortgagee Letter 2020-43
, announcing an extension through February 28, 2021, of its foreclosure and eviction moratorium in connection with the COVID-19 emergency, for borrowers with FHA-insured single-family mortgages covered under the
Coronavirus Aid, Relief, and Economic Security (CARES) Act
. The most recent extension issued in early December had provided for a moratorium through "at least" January 31, 2021. The new extension is the fifth extension on the original moratorium that became effective March 18, 2020.
This moratorium applies to the initiation of new as well as pending foreclosures, but the moratorium does not apply to vacant or abandoned properties or mortgages.

Deadlines for the first legal action and reasonable diligence timelines on FHA-insured single-family mortgages, except for vacant or abandoned properties, are extended by 120 days from this moratorium's expiration date.

For further information on navigating the ongoing foreclosure and eviction moratoriums or any other real estate matters, contact shareholder
Larry Rothenberg
.
This blog is not a solicitation for business and it is not intended to constitute legal advice on specific matters, create an attorney-client relationship or be legally binding in any way.