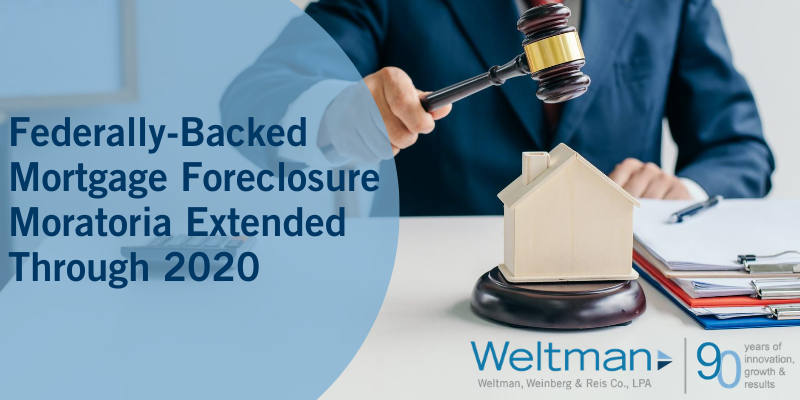 Fannie Mae, Freddie Mac, FHA and HUD, all of which had imposed COVID-19 foreclosure and eviction moratoria in
March
2020, have extended the moratoria until at least December 31st, 2020. The moratoria, which had been extended twice previously, were scheduled to expire on August 31st, 2020.
The
moratoria
do not apply to vacant or abandoned properties or mortgages that are not federally-backed.
Guidelines for those single-family mortgages affected by the moratoria are:
Homeowners who are adversely impacted by the COVID-19 national emergency may request mortgage assistance by contacting their mortgage servicer
Foreclosure-related activities (except as to vacant or abandoned properties) are suspended until December 31st, 2020
Homeowners impacted by COVID-19 are eligible for a forbearance plan to reduce or suspend their mortgage payments for up to 12 months
Servicers must report the status of the mortgage loan to the credit bureaus in accordance with the Fair Credit Reporting Act, including as amended by the CARES Act, for homeowners impacted by COVID-19
Homeowners in a forbearance plan will not incur late fees
After forbearance, a servicer must work with the borrower on a permanent plan to help maintain or reduce monthly payment amounts as necessary, including a loan modification
Fannie Mae also issued an announcement providing the following advice to homeowners regarding forbearance and post-forbearance options during COVID-19:

Homeowners who are experiencing a financial hardship caused by COVID-19 may request a forbearance plan through their mortgage servicer (the company listed on their mortgage statement). Homeowners must contact their mortgage company to request assistance. Under the CARES Act, a forbearance plan must be provided to eligible homeowners for an initial period of up to six months, and the plan can be extended for up to a total of 12 months if the borrower requests it.
Under a forbearance plan, a homeowner may be able to temporarily reduce or suspend their mortgage payment while they regain their financial footing. Forbearance does not mean a homeowner's payments are forgiven. Homeowners are still required to eventually fully repay their forbearance, but they will not have to repay it all at once – unless they choose to do so.
Homeowners have several options to pay back unpaid amounts accrued during their forbearance period. Mortgage servicers will attempt to contact homeowners 30 days before their forbearance plan is scheduled to end to determine which assistance program is best for them at that time.

Full repayment: Homeowners have the option of immediately reinstating their loan, which means catching up on all the missed payments a single payment if they can't afford it. If a homeowner chooses to reinstate the loan, they can continue to pay their mortgage under the terms originally agreed to before they received forbearance.
Short-term repayment plans: Homeowners can gradually catch-up on the past-due amount over an agreed-upon timeframe for example: three, six, nine, twelve months. A portion of the past-due payments must be paid in addition to their existing monthly mortgage payments. Upon completion of their repayment plan, they can continue paying their mortgage under the terms originally agreed to before they received forbearance.
COVID-19 payment deferral: Homeowners can resume their regular monthly payments in the amount of their missed payments moved to the end of the loan term.
Loan modification: The original terms of the loan are changed in order to make the borrower's monthly payments more manageable and address their ongoing hardship.
As we navigate together through these unprecedented times, Weltman remains working diligently to keep you up-to-date on the latest legislative and moratoria. Be sure to subscribe to our
email list
for the latest updates.
This blog is not a solicitation for business and it is not intended to constitute legal advice on specific matters, create an attorney-client relationship or be legally binding in any way.