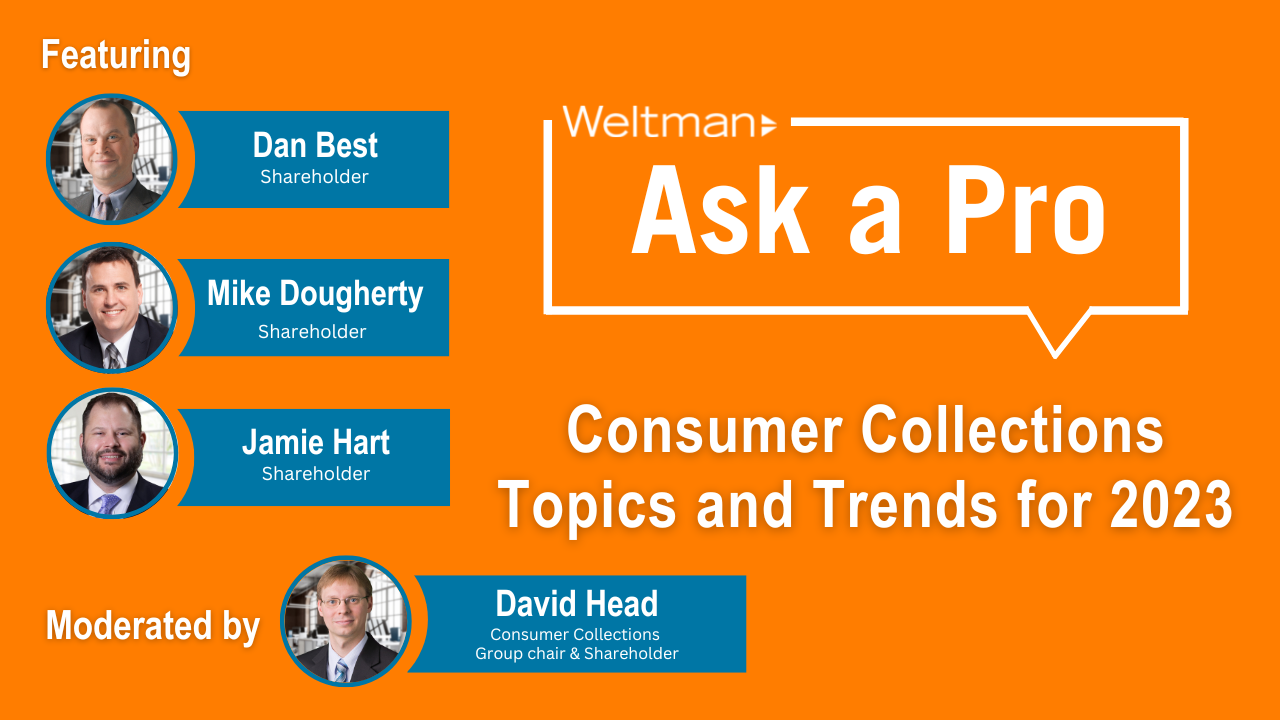 In the past few years, the world of consumer collections has expanded and transformed in many ways, including the implementation of Regulation F. In the next session of our popular webinar series, Ask a Pro, some of Weltman's top consumer collections attorneys are prepared to answer your burning questions to prepare you for 2023 and beyond.
Our panel includes shareholders
Dan Best
,
Mike Dougherty
, and
Jamie Hart
– with moderator, shareholder, and chair of the firm's
Consumer Collections Group
David Head.
Each of these professionals oversee the firm's practice in several different locations – from Cleveland and Cincinnati, OH to Detroit, MI, and Philadelphia, PA! Their expertise expands across all aspects of consumer collections in states including Ohio, Pennsylvania, Michigan, Illinois, Indiana, Kentucky, and New Jersey. You won't want to miss the first #AskaPro session of 2023 – register today!
Key Topics:

State-specific trends and how they may affect other states
Statute of limitations
Important documentation and information needed (with Regulation F and more)
About the Series:
Weltman's Ask a Pro Series is an ongoing, virtual Q&A featuring our own in-house attorneys and industry professionals. The series will address some of your most popular questions regarding creditors' rights – from general best practices for your portfolio to new trends and insights, and even specific case examples.